08 Oct

4 Small Business Improvement Tips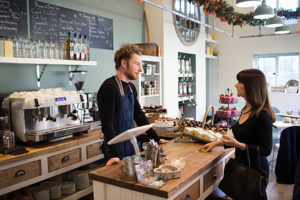 4 Tips to Improve Your Business
Running a business, no matter how small, is an incredibly complex task. Handling the day-to-day operations while keeping an eye on the profits can be stress inducing. Juggling daily goals, customer service operations, employee management and more, small business owners can lose focus on their business priorities.
Bottom Line Management understands exactly how hard running a business can be, especially if you have limited staff. Wearing multiple hats and performing duties outside of the typical job description is how business owners sometimes keep their companies running. But there's always room for improvement, even in your business's early growth years. See how your business operations can improve with the following four tips.
1. Provide Good Customer Service
The term "the customer is always right" is even truer today than in the past. Turning customers into fans is an important way businesses can see them return again and again. One way you can create a loyal fan base is by providing incredible customer service. A customer who is frustrated with their experience with your company is much more vocal than ones who are satisfied. By providing good customer service, you'll see the benefits of repeat customers, but also an increase in the positive word-of-mouth conversation about your company.
2. Use Satisfied Customers to Your Advantage
Social media has become a way of life for many potential customers. You should never let a satisfied customer go to waste. Encourage them to spread their positive word of mouth by creating a social media community that interacts with them wherever they may be. Having a substantial social media presence will also keep your business in the customer's mind during their purchase-making decisions.
3. Reward Employees for their Hard Work
While customers are an important part of your business model, your employees are too. A happy employee will advocate for your company better than any customer can. Having a staff that is content and has a high morale will guarantee a more productive workforce and a higher-quality product. While monetary benefits are always appreciated, you can also reward employees by positive reinforcement. Hearing about how you appreciate their hard work can really improve an employee's job satisfaction and can also improve staff retention as well.
4. Keep an Eye on the Financials
Daily tasks can distract any business owner from the big picture: making a profit. Employing a financial expert to handle your bookkeeping tasks can take away financial pressure, while still keeping you informed of how profitably your business is being managed. A bookkeeping professional can help with everything from accounts payable and receivable, to inventory management, to tax preparation and even to workers' compensation insurance. Having the right knowledge and expertise is incredibly important in managing a business's bookkeeping, therefore it's important to get help from a professional.
Managing a small business can come with a lot of hard work, but being your own boss and owning your own company can be extremely rewarding. Keep up the good work and you'll see rewards from a happy customers, staff and a more profitable business.