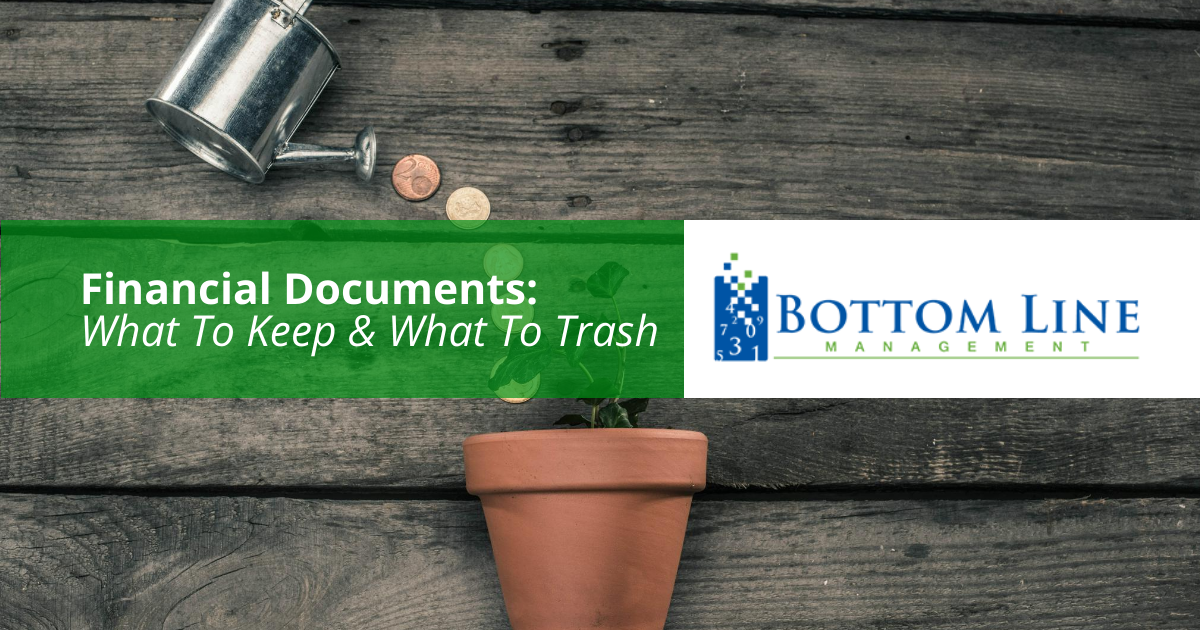 22 May

Financial Documents: What To Keep & What To Trash
Spring Cleaning Tips for Business Owners: What Important Financial Documents To Keep
Did you give your business financials a Spring cleaning this year?
As a business owner, you understand the importance of having essential financial documents at the ready.
Things like your balance sheet, income statement and cash flow report should be easily accessible and updated regularly.
But do you really need to keep seven years worth of federal & state tax returns?
Yes, you do.
But, while you want to hold onto some financial documents like tax returns, others can be shredded and tossed.
If you've already taken steps to go green with your business then you've probably taken a big cut out of those mountains of receipts, bills, pay stubs, tax forms and other financial documents.
So how do you know what to keep and what to toss?
We'll get into that, but first, let's divide and conquer.
Use this blog post as a guide of which financial documents to keep, and for how long.
3 Steps To Give Your Business Financials A Spring Cleaning
Step 1: Get Rid Of The Clutter
There's a good chance that a good deal of the paperwork in your files can be thrown in the trash – or shredded.
Be careful to shred anything that contains personal information like birthdays, social security numbers, bank accounts…etc.
Generally speaking, you can safely trash the following items:
Paycheck stubs after reconciling with W-2 form

Expired warranties

Coupons after expiration date
Let it go!
Step 2: Categorize & Organize
Once you've made a good swath through the trash pile, do yourself a favor and set up a system to separate important financial documents into four categories:
Documents you need to keep for 1-3 months.
Documents you should keep for 1 year.
Important documents you need to keep for 7 years.
Essential documents you should keep forever.
Have a system and a place to collect, categorize, file and store these documents.
Step 3: Keep It Up
Now that you've created a system, the key is to actually use it, regularly.
This will help you avoid this major spring cleaning next year…and every year thereafter.
A system does you no good unless you're actually using it.
What Financial Documents To Keep & For How Long
Keep for 30-90 Days
Utility bills
Sales receipts for minor purchases
ATM and bank deposit slips
Keep for 1 Year
Checkbook ledgers

Paycheck stubs

Monthly mortgage statements

Expired insurance records
Keep for 7 Years
Bank statements

W-2 and 1099 forms

Receipts for tax purposes

Cancelled checks

Disability records

Unemployment income stubs

Medical bills/claims

Records of paid-off loans
Keep Forever
Annual tax returns

Deeds, mortgages and bills of sale

Year-end statements for investments

Legal documents (birth certificates, marriage license, divorce papers, passports)

Home improvement documentation and receipts

Receipts for major purchases—for warranty and insurance purposes

Wills

Living wills

Power of attorney designation

Medical and burial instructions

Beneficiary directions

Real estate certificates

Automobile titles

Current insurance policies

Medical records

Education records

Pension plan records

Retirement plan records
Carlsbad Bookkeeping & Accounting Services
Betty Moore is the numbers nerd behind Bottom Line Management.
Betty and her staff will save your business time and money by turning piles of receipts into complete financials with every penny accounted for.
Here at Bottom Line Management, we love keeping track of ALL the financial activity in your business, down to the penny!
This will help alleviate any financial problems and keep you in the know. We take pride in our clients and their company so they can have peace of mind.
We let you focus on what you do best — running your own business.
Connect With Your Carlsbad Bookkeeper
Click the icons below to connect with us on social media!