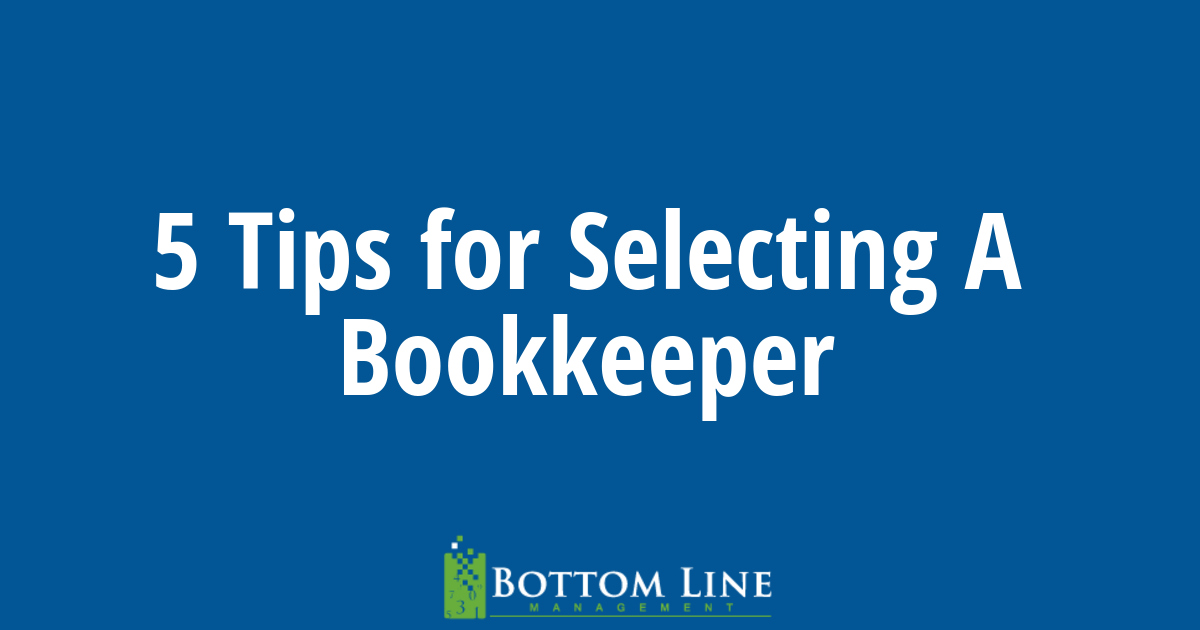 17 Jul

How To Choose A Bookkeeping Service for Your Business
Choosing The Right Bookkeeping Service
A bookkeeper is more than just someone who handles the daily, weekly, and monthly financials.
The right bookkeeping partner for your business will become a trusted colleague you can depend on, an experienced professional who offers advice and guidance as your business and finances grow.
So what are the top things you need to look for in a bookkeeping service?
What Should You Look For In A Bookkeeping Service?
Once you've decided that the time has come to hire a bookkeeping service for your business, the next step is to decide whether you want to outsource bookkeeping & accounting services, or if you are looking to hire an employee – or employees – to tackle the tasks.
In this post, we'll examine some of the most important things to look for when choosing to outsource your business bookkeeping efforts, since that's what we do.
If you're still debating the pros & cons of an outsourced bookkeeping solution or an in-house staff, check out this post.
It's important to take the time to do this carefully, and there are a few things you'll want to consider first.
You'll need to think about issues such as where the bookkeeper or accountant you select is located.
Are they in your neighborhood or local area?
Do they know where your business is located?
Then you'll want to learn about how the financial workload is going to be handled.
Do you prefer to take care of some of the responsibilities yourself, and have someone train you on accounting software such as Quickbooks?
Or, do you want someone to do it all for you while you concentrate on running your business and dealing with customers?
Next, you'll want to talk about fees and get a handle on exactly what benefits an outsourced bookkeeper will bring to your business.
Will this person help to reduce your tax burden?
Will they enable your business to grow?
It's in your best interests to have an experienced professional handling one of the most important aspects of your business – your company finances.
The right person will save you time and money, year after year.
So here are some things you should consider when you're choosing a bookkeeping service.
5 Tips for Selecting A Qualified Bookkeeping Service
1. Look for someone with relevant experience
As a business owner, whether you have one employee or one hundred, you're going to need someone with experience in the following areas:
Monthly bank & credit card reconciliations
Accounts payable & accounts receivable
Payroll processing & management
Worker's comp audits
Sales tax and Use tax returns & audits
Year-end financial reports in preparation for tax season
And if you already use some type of software for your business accounting needs, you're going to want someone who's experienced with that software.
Every business is unique, would you rather have a bookkeeper who has worked with businesses similar to yours, or one with no experience in your particular industry?
A bookkeeping professional with experience in your industry will help because they'll already understand the unique aspects and challenges of your business.
You'll also want someone with experience servicing larger clients, this will be a good sign that they will be able to handle your needs over time, as your business grows.
During your consultation, ask how their clients have grown over the years, and how their services evolved to support and enable that growth.
2. Talk to government and local business associations
Small businesses are the lifeblood of our economy, both the state and federal government encourage their growth.
Use government and local business associations like the Chamber of Commerce to help you find and decide on the right bookkeeping service for your business.
Take advantage of your business networks and community advisors for referrals.
As members of the Carlsbad Chamber of Commerce, we often hear from business owners who first learned about our services through the chamber.
Reaching out to these local government and community organizations can also help you network and talk to other local business owners, who also use a bookkeeping service.
Often times business owners are all too happy to recommend a qualified bookkeeping professional.
At the very least that communication could help you decide on who not to consult with as your outsourced bookkeeping service.
3. Tap into your network
When searching for an accounting pro who knows how to balance the books, the ideal solution might be closer than you think.
Start by asking any friends & family members who own small businesses if they would recommend the bookkeeping services they use.
If so, why? And if not, why not?
This unfiltered feedback will prove useful at a later stage when you schedule a consultation to learn more about their service.
While your personal and family network will give you their valuable feedback, it's also important to understand that what's right for your friend's retail business might not be the best fit for your building contractor company, for example.
4. Reach out on social media
LinkedIn is a great place to start, it is widely considered the number one social media site for professional networking.
You most likely have a profile on LinkedIn already, reach out to your connections and search for bookkeeping professionals that are recommended by your network.
And even though you might catch yourself spending more time watching puppy videos than pursuing professional networking opportunities, Facebook can also be a great tool for finding a qualified bookkeeping service for your business.
We've even had local business owners contact us on Instagram.
Use LinkedIn, Facebook, and other social media to learn more about their background, their qualifications, specializations, and experience with businesses like yours.
5. Find a bookkeeper who is all about saving you money
Some bookkeeping services offer little more than simply reconciling your accounts and maintaining your payroll.
But your business deserves better than that.
The best bookkeeping professionals are more proactive.
Before choosing one for your business, ask what they suggest to save your business money – now and in the future as you grow.
For example, what proportion of your operating costs do they think you can offset against tax?
You need to choose a bookkeeping service that is not only focused on managing your financials, but also in saving your business money and enabling growth.
A professional bookkeeping service will help grow your business
Your bookkeeper will be an integral part of your business, someone intimately involved in the day to day management of your business financials.
Finding the right bookkeeping service is not a decision to be taken lightly.
You need someone you can trust, someone who has the necessary experience, and someone you can rely on that will be there when you need them.
A qualified, experienced, well-regarded bookkeeper will help grow your business while also saving you money – both for the short & long term.
The best bookkeeper will be someone with whom to partner in the success of your business.
Carlsbad Bookkeeping Services that Help Grow Your Business
Betty Moore is the numbers nerd behind Bottom Line Management.
Betty and her staff will save your business time and money by turning piles of receipts into complete financials with every penny accounted for so that you can make sound business decisions.
They love helping clients solve their financial problems, and take great pride in helping clients grow their businesses.
Focus on what you do best — running your own business. Let Betty and her team handle the books.
Book a free, 100% no-obligation consultation with Betty today!
Stress less — let Bottom Line Management take care of the details. Your CPA will thank you!
Connect With Your Carlsbad Bookkeeper
Click the icons below to connect with us on social media!