30 Jul

Join Us At Señor Grubby's 11th Anniversary Party
Bottom Line Management Supports Local Businesses & Charities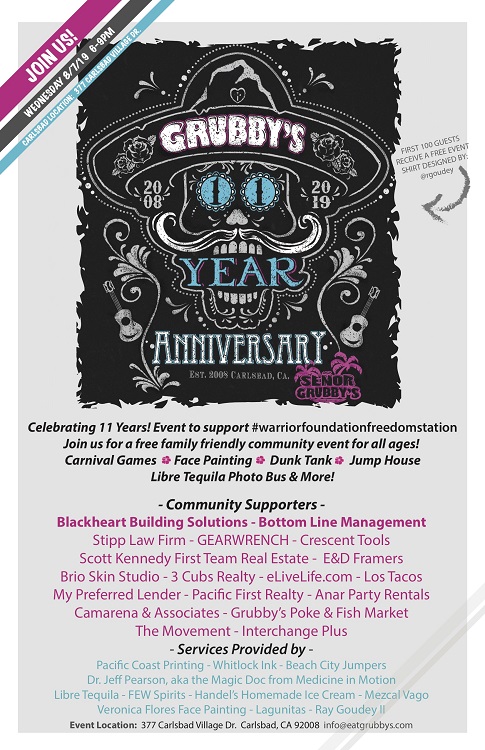 Along with shopping, eating & drinking local, the crew here at Bottom Line Management loves it when we get the chance to help support other local North County San Diego businesses.
Join us at Señor Grubby's 11th Anniversary Party & Charity Event to Support Warrior Foundation Freedom Station!
Señor Grubby's is throwing their 11th Anniversary Party & Fundraiser to support the Warrior Foundation Freedom Station.
The charitable event will feature carnival games, a dunk tank, face painting, raffles, giveaways, and more to raise money for injured warriors recovering at Camp Pendleton, Naval Medical Center San Diego and Naval Base San Diego.
The event is free & open to the public, all ages are welcome. Here is a link to the event press release.
All proceeds will be donated to Warrior Foundation-Freedom Station to fund quality-of-life items, support services and transitional housing for injured veterans of the Iraq and Afghanistan wars.
We are proud to be sponsoring the event, along with:
Blackheart Building Solutions
Stipp Law Firm
GEARWRENCH
Crescent Tools
Scott Kennedy – First Team Real Estate
Brio Skin Studio
E&D Framers
3 Cubs Realty
eLiveLife.com
Anar Party Rentals
Camarena & Associates
My Preferred Lender
Pacific First Realty
The Movement
Interchange Plus
Los Tacos
Grubby's Poke & Fish Market
If we missed you at the last Spring Fling event at the Oceanside Moose Lodge, we hope you make it out to Señor Grubby's, here are all of the event details:
WHEN: Wednesday, August 7th, 6-10pm
WHERE: Señor Grubby's (Carlsbad) – 377 Carlsbad Village Dr. Carlsbad, CA. 92008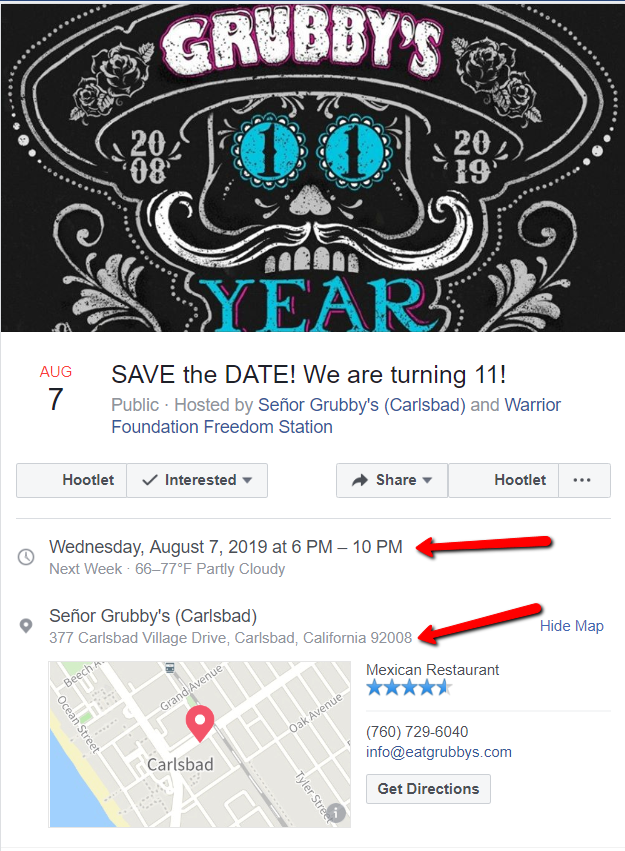 Help Support Warrior Foundation Freedom Station
Come join Bottom Line Management and all of the other local Carlsbad & Oceanside businesses sponsoring the Señor Grubby's 11th Anniversary Party
We've invited all of our clients & neighbors to join us for some great food, entertainment, carnival games, face painting for the kids, a dunk tank, jump house, Libre Tequila photo bus and more.
Party services include a photobus by Libre Tequila, treats for sale from Handel's Homemade Ice Cream, printwork by Pacific Coast Printing, t-shirts by Whitlock Ink, graphics by Ray Goudey II, magic performed by Dr. Jeff Pearson aka 'The Magic Doc' from Medicine in Motion, and bounce house by Beach City Jumpers.
There will be plenty of swag to go around, but be sure to get there early as the first 100 guests will get a FREE swag bag.
And be sure to stop by the Bottom Line Management booth to say hi & see what we have in store for our guests!
Let us know if you'll be attending: https://www.facebook.com/events/770806499980202/ (RSVP encouraged, but not required!)
Carlsbad Bookkeeping & Accounting Services
Betty Moore is the numbers nerd behind Bottom Line Management.
Betty and her staff will save your business time and money by turning piles of receipts into complete financials with every penny accounted for.
Here at Bottom Line Management, we love keeping track of ALL the financial activity in your business, down to the penny!
This will help alleviate any financial problems and keep you in the know. We take pride in our clients and their company so they can have peace of mind.
We let you focus on what you do best — running your own business.
Connect With Your Carlsbad Bookkeeper
Click the icons below to connect with us on social media!