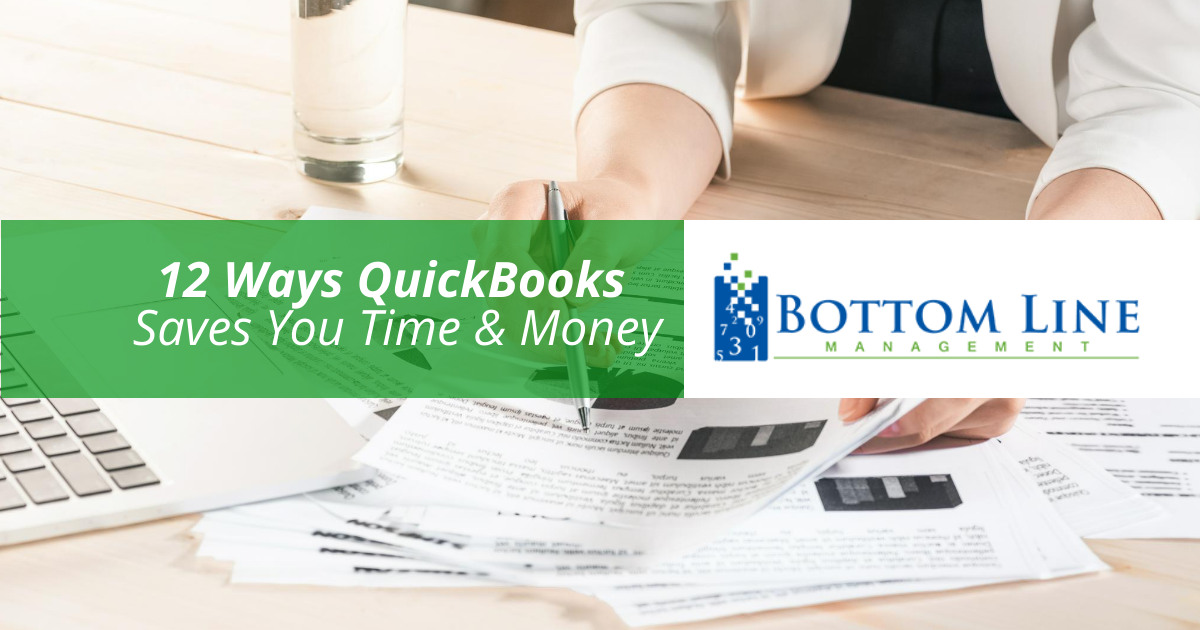 30 Jan

12 Ways QuickBooks Saves You Time & Money
QuickBooks Saves You Time & Money
Do you struggle to find the time to get your books squared away each month?
Do you wish there was a solution that doesn't cost an arm & a leg?
QuickBooks makes accounting easy, in fact business owners can save an average of 42 hours per month with QuickBooks.
In fact, according to Intuit, over 98% of customers say that QuickBooks helps them run their business more efficiently.
What Is QuickBooks?
QuickBooks is an accounting software developed by Intuit.
QuickBooks products are geared mainly toward small and medium-sized businesses and offer both on desktop & cloud accounting applications.
The software has all of the features to enable any business owner to record the daily activity of their company's operations:
Accounts Payable

Accounts Receivable

Bank & Credit Card Reconciliations

Sales Tax

1099s

Year-End Financials
See QuickBooks In Action
QuickBooks Is Now Better…On Amazon
Have you ever lost what you were working on because your Internet service went down?
Imagine you were working on something really important when that happened, that would be pretty frustrating.
As more and more companies move to the cloud, improvements are being made continuously to improve the reliability of their services.
And QuickBooks is leading the charge to a more stable online platform by moving hosting for their online products to Amazon Web Services.
When QuickBooks Online goes down, businesses lose money.
Now with QuickBooks using Amazon Web Services, these outages should be significantly reduced.
Amazon Web Services will be able to accommodate spikes from customers during the busy tax season for TurboTax and QuickBooks Online customers, – which previously led to outages & delays – making the service more reliable.
How Can QuickBooks Save Your Business Time & Money?
QuickBooks desktop & online versions keep the business financial activity organized all in one place.
The online version offers (2) subscriptions with multiple users.
So, your staff, your bookkeeper, and your CPA can all share your books for seamless collaboration.
"I always recommend QuickBooks Online to our clients because it's better access for all of us and data is saved in the cloud."
Betty Moore | Bottom Line Management
12 Ways QuickBooks Will Help Your Business
Simplify paying bills and put more time in your business.

Track payments to 1099 contractors throughout the year.

Create estimates before invoicing customers.

Email invoices directly to customers.

Accept payments quicker through Intuit merchant services to improve cash-flow.

Track inventory from shelf to shipment.

Process payroll at your fingertips.

Organize your business income & expenses in one place.

Control your books with robust user roles & permissions.

See the big picture at a glance.

Maximize tax deductions to put more money in your pocket.

Track projects & manage work your way.
QuickBooks Training & Consulting Services In Carlsbad
Betty Moore is the numbers nerd behind Bottom Line Management.
Betty and her staff will save your business time and money consulting or training you & your staff on how to navigate the software and manage the bookkeeping in-house
We are an experienced QuickBooks Online Accountant and a QuickBooks Pro Advisor.
Here at Bottom Line Management, we love keeping track of ALL the financial activity in your business, down to the penny!
This will help alleviate any financial problems and keep you in the know. We take pride in our clients and their company so they can have peace of mind.
We let you focus on what you do best – running your own business – while we focus on our best – bookkeeping.
Connect With Your Carlsbad Bookkeeper
Click the icons below to connect with us on social media!